gozzo12 [TWELVE]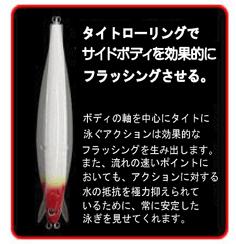 GOZZ12 is designated as the Ultimate Weapon especially for heavily pressured area.
Gozzo12 features 120mm (nearly 4-4/5inch) length minnow-shaped body ando quick-roll action that is incredibly
irresistible to game fish especially in areas where heavily pressured by many anglers.
With snaps of rod, GOZZO12 performs wide-darting action to lateral direction involving quick roll, which is amazinglyeffective to draw reaction strikes.
GOZZO12 makes fish crazy as a "TRICKSTER" !
●MADE IN JAPAN